Save the Dates!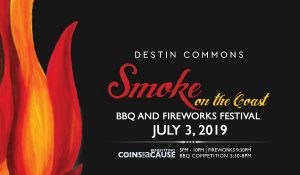 Wednesday, July 3rd | 5 PM – 9 PM
at Destin Commons
Join us for the 9th Annual Smoke on the Coast BBQ and Fireworks Festival benefitting Shelter House! Starting at 5 p.m. family entertainment and live music will kick off the day. At 5:30 p.m. BBQ aficionados can enjoy $1 samples from 18 area restaurants and BBQ groups and vote for their favorite as People's Choice winners with over $85,000 in donations benefiting local charities. Stop by for family fun activities including an Independence Day firework extravaganza!
14th Annual Destin Charity Wine Auction benefitting Shelter House!
Destin Charity Wine Auction is ranked #4 on the list of "Top 10 Charity Wine Auctions in the US" by Wine Spectator Magazine for the second consecutive year, raising $18 million for children in need in Northwest Florida since it's inception in 2005.
Dates Held
Friday, April 26, 2019
Saturday, April 27, 2019
Sunday, April 28, 2019